The National Airmail Museum will be a place for the community to come together and celebrate the storied history of Fort Wayne and the city's role in aviation history and the development of the National Airmail Service. The proposed Museum will be housed in Hangar 2 at Smith Field Airport and feature interactive, hands-on exhibits that provide an in-depth perspective and bring this story to life. The museum will also be home to the Experimental Aircraft Association's (EAA) Chapter 2 Headquarters, gift shop and a uniquely themed dining experience.
Phone or text: Bob at 260-410-1592 or Jan at 260-414-1111 or Eric at 260-760-5626
---
The Reluctant Pioneer 
and Air Mail's Origin

by Nancy Allison Wright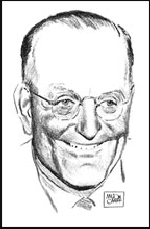 Major Reuben H. Fleet welcomed his new responsibility as officer-in-charge of inaugurating the first U.S. airmail service the way a fledgling pilot welcomes a tail spin at 500 feet. As executive officer for pilot training in the U. S Air Service, Signal Corps Aviation Section, Fleet already had a full plate of duties. He was in charge of establishing America's pilot training program for all army aviators, an assignment that saw him overseeing 34 fields and as he said, "students crashing every hour of the day." On top of this, Col. H. "Hap" Arnold had given him the added task of training aerial observers.
For his story, flash back to May 03, 1918. That was the day the War Department issued an order to the Air Service to begin preparations for launching the airmail service. Oblivious to the pronouncement and the part he would eventually play in executing it, Fleet at the time was traveling between Washington and Dayton, Ohio, hurrying to inspect the crash of a American-produced British de Havilland bomber. This had been the first test flight of the DH bomber powered by the new American-produced 12-cylinder. water-cooled, 400 hp Liberty engine, and it had proved a disaster, ending the life of Col. Henry J. Damm and Maj. Oscar A. Brindley. After inspecting the wreck, Fleet determined the cause of the accident was not engine failure, but a rogue spark plug, wedged between the wing's trailing edge and the aileron and preventing the plane's ability to bank on landing.